This section will explain and take you through the process of transferring funds into your account, and creating a new exchange instruction.
Step one: Log in
Begin by logging into your account, if you don't already have an account, you can register to create an account– registration is free, only takes a few minutes with the account normally being live within 24 hours once the application has gone through the compliance process.
Once you log in you'll arrive at the main dashboard, from here you can access all of the platform. If you click the New Exchange button, you'll be taken through to the create an exchange page – this is where you'll create new exchange instructions. Whilst it is possible to create a new exchange instruction without having any funds on the account, we recommend that customers deposit funds first. Exchange instructions will not be completed until the required funds are available on the account.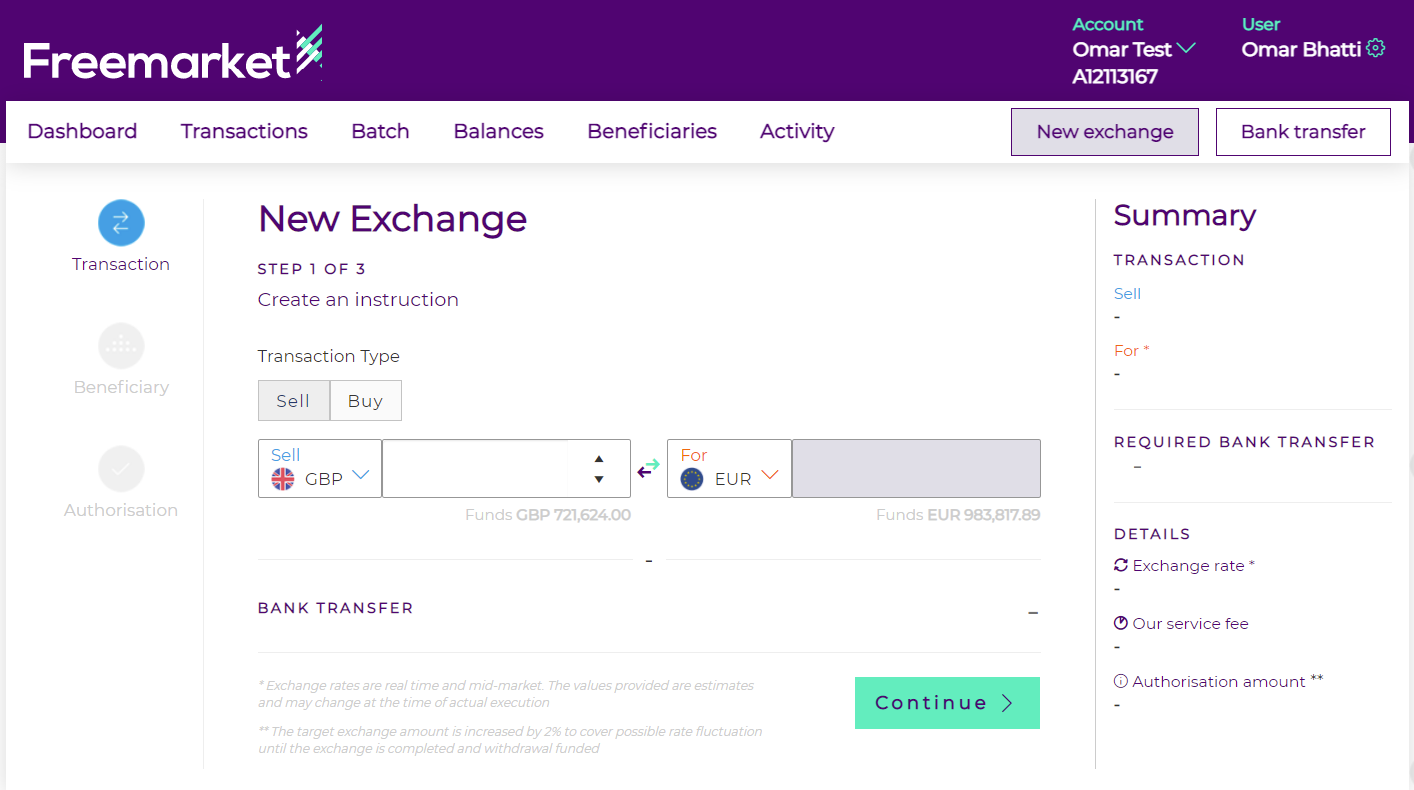 Step two: Transfer funds
To make a transfer to your Freemarket account, you can do this by going to the add funds page, which is located on the top right-hand side of the page below the user details. From the add funds page, select the currency of the funds you wish to exchange and the relevant bank details will appear on the screen.
Once the funds have arrived in your Freemarket account, you'll receive an email confirmation with a breakdown of the transaction.
You're now ready to create an exchange instruction. Head back to the new exchange page (via the main menu navigation time).
Step three: Creating an exchange instruction
The exchange instruction has two features that we should touch upon. Here you're able to Buy or Sell currency depending on your requirements. See below of a walkthrough of the Buy and Sell features and processes work.
First, you'll be asked to select the 'Transaction Type', with two options on the screen for you to select from: Sell or Buy. If you are selling (e.g. I am holding £15,000 I wish to exchange into the Euro equivalent) select Sell. If you are buying (e.g. I need to acquire exactly $20,000 using the equivalent amount in Sterling) select Buy.
Next, you'll be asked to select two currencies you'll be using, and the amount you wish to sell or buy. After selecting the currencies you wish to trade, you'll see below each input field and below that the available funds in that selected currency. Above the input fields, you'll see the current exchange rate of your selected currencies.
Note: this is an indicative rate, not the guaranteed rate of exchange.
Visit our Scheduled Exchanges page for more information about this.
Below the exchange information, you'll notice that the 'required funds' will be shown) this is how much the exchange is going to cost you), followed by the option to use your existing funds. If you transferred funds prior to creating your exchange instruction, as we recommend that you do, these funds will appear here. If you did not, you will be required to transfer funds after creating the exchange instruction in order for your exchange to be completed.
On the right-hand side is the 'Transaction Summary': it includes how much you're Buying/Selling, exchange rate, service fee, possible benefit (the amount you could save on this transaction, depending on the exchange rate variations), and the required transfer. You can also select if you want to use existing funds or not from this area.
Following on from the above information, and being prepped for the exchange, let's do a walkthrough of making and completing an exchange.
Begin by choosing if this is a Sell or Buy instruction (by default, it will be a Sell)
Next, select the two currencies that will make up the exchange
If you're selling a specific currency (e.g. I am holding £4,500 and I wish to exchange these into Euros) your instruction would look like this: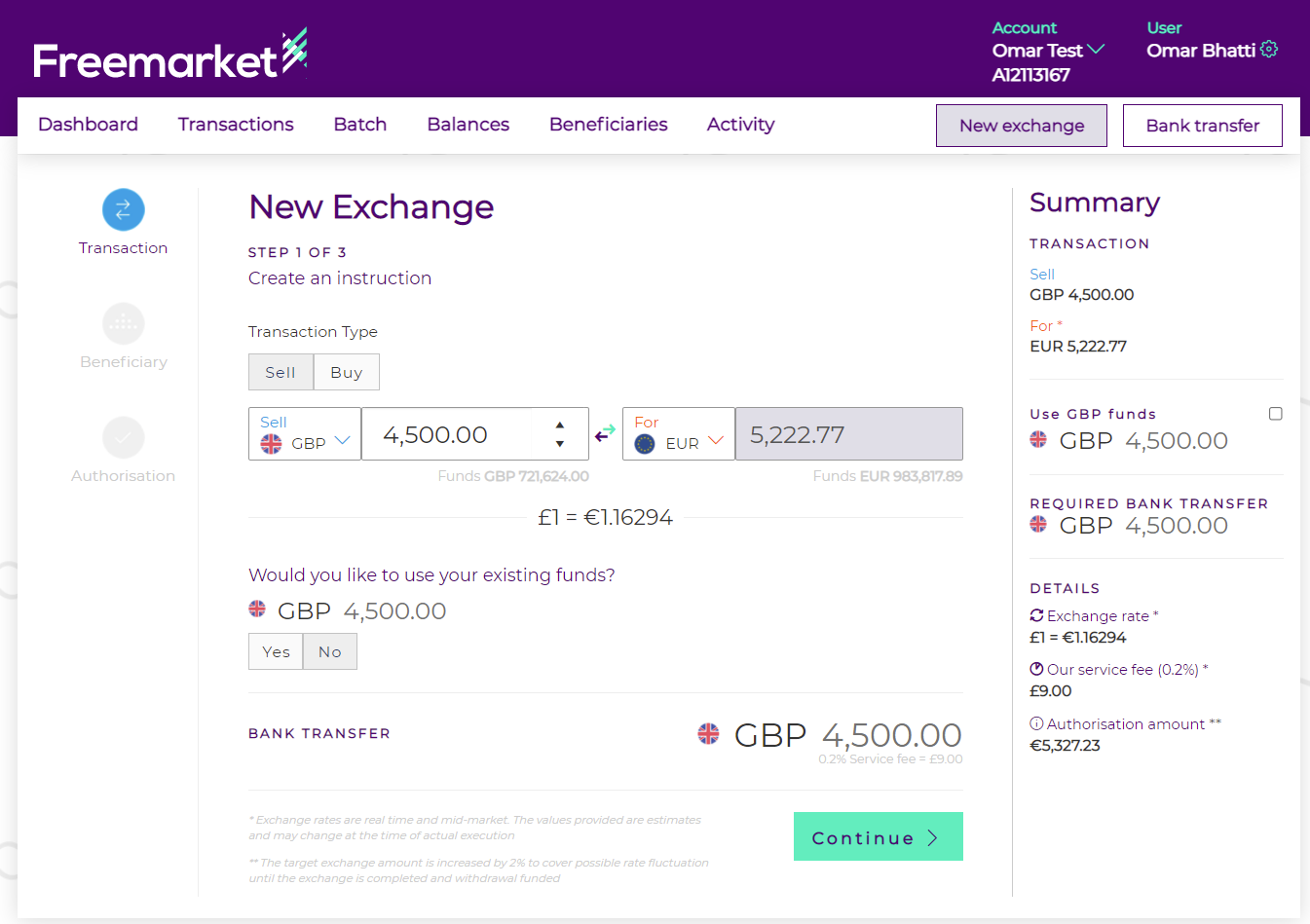 If you are Buying a specific amount (e.g. I need to buy €50,000 using Sterling to pay a European invoice) then your instruction would look like this:
Note: the minimum fee for exchanges is the currency equivalent of £5,000
Once that's done, the required transfer will appear along with the option to use existing funds.
If you've already transferred funds, you can select 'Yes' or tick the box in the transaction summary. If you have not transferred funds prior to creating the exchange instruction, you will need to do so afterwards in order for your instruction to be completed. Once you're ready click the 'Continue' button.
Step four: Creating a beneficiary
The next step will take you to the beneficiary selection page.
From here you'll select where the funds will go, either by choosing an existing beneficiary or by creating a new one. As this may be your first exchange, let's create a new beneficiary:
Click 'Create new beneficiary'
A set of input fields will appear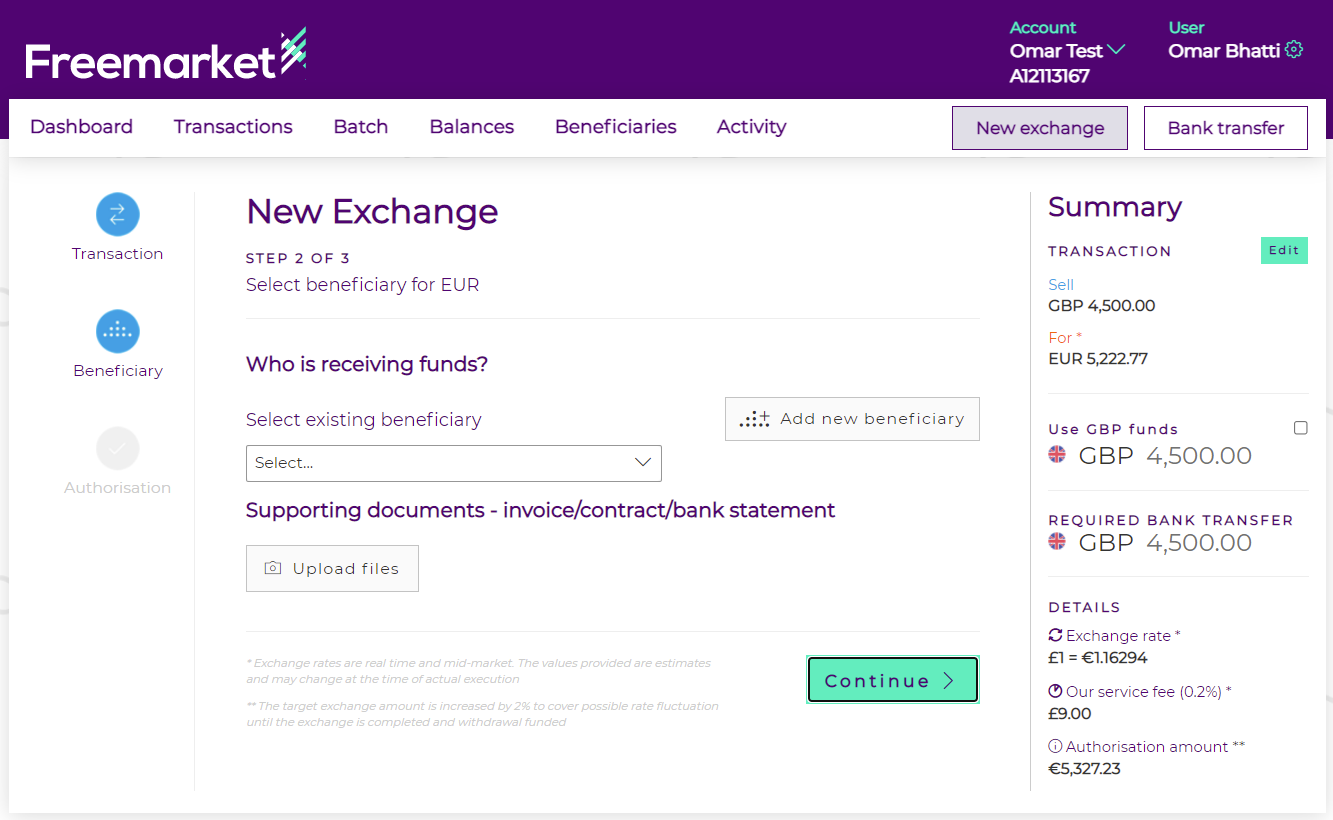 Note: if at any time, you need to go back to the 'Transaction' page, you can do so by clicking on the icons to the left of the page.
Enter the chosen beneficiary's account name in the field that appears then select the beneficiary's country.
Once a country is selected, more input fields will appear, specific to the selected country and currency.
Additionally, you can enter a payment reference and/or description (optional).
Finally, select the reason for your transaction from the drop-down list.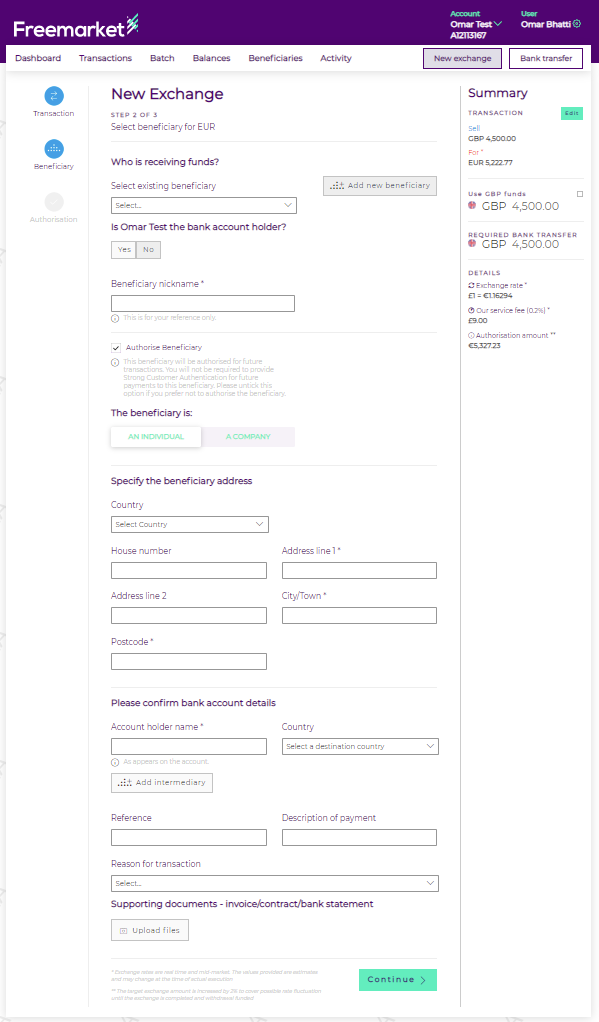 Once you've completed all the required fields, click 'Continue' at the bottom of the page to execute your exchange instruction.
If you haven't transferred funds or have insufficient funds to complete the exchange, you will be prompted to select your bank (where your funds are coming from). If your bank is not displayed, simply select 'Other banks inc. International'.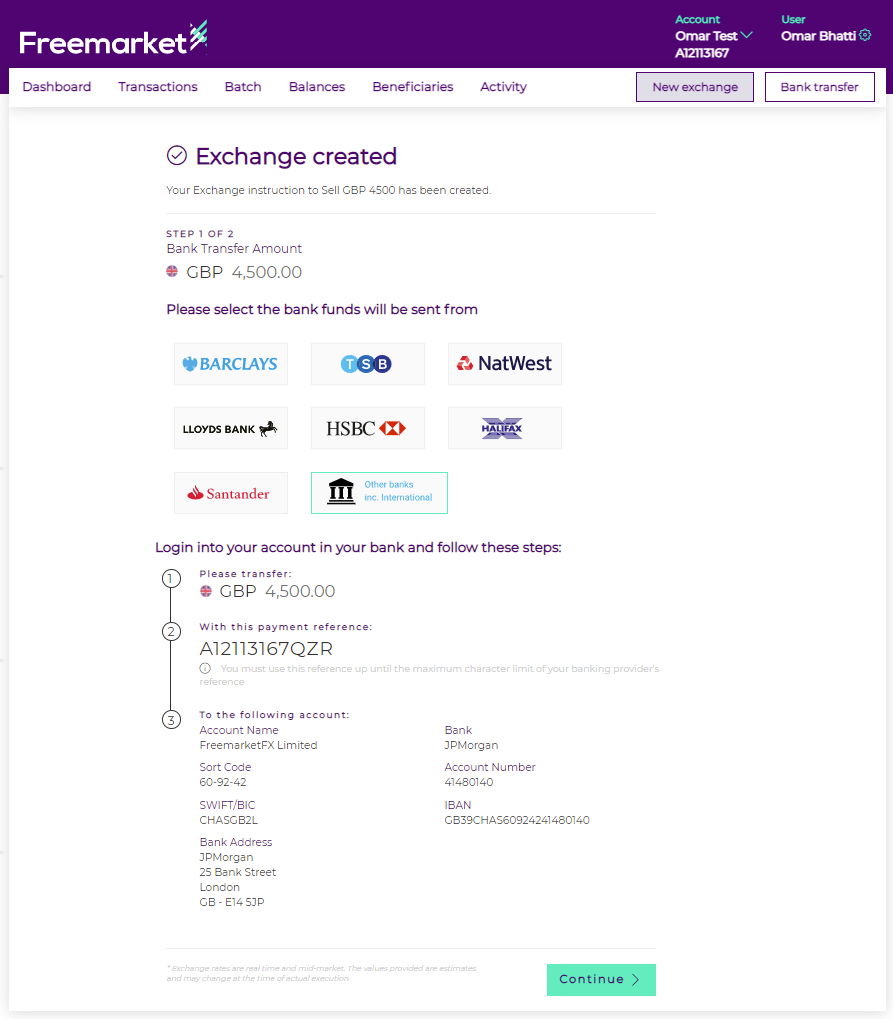 Once you've selected a bank, next you'll see some deposit instructions will appear along with a link to your chosen bank's website (if available).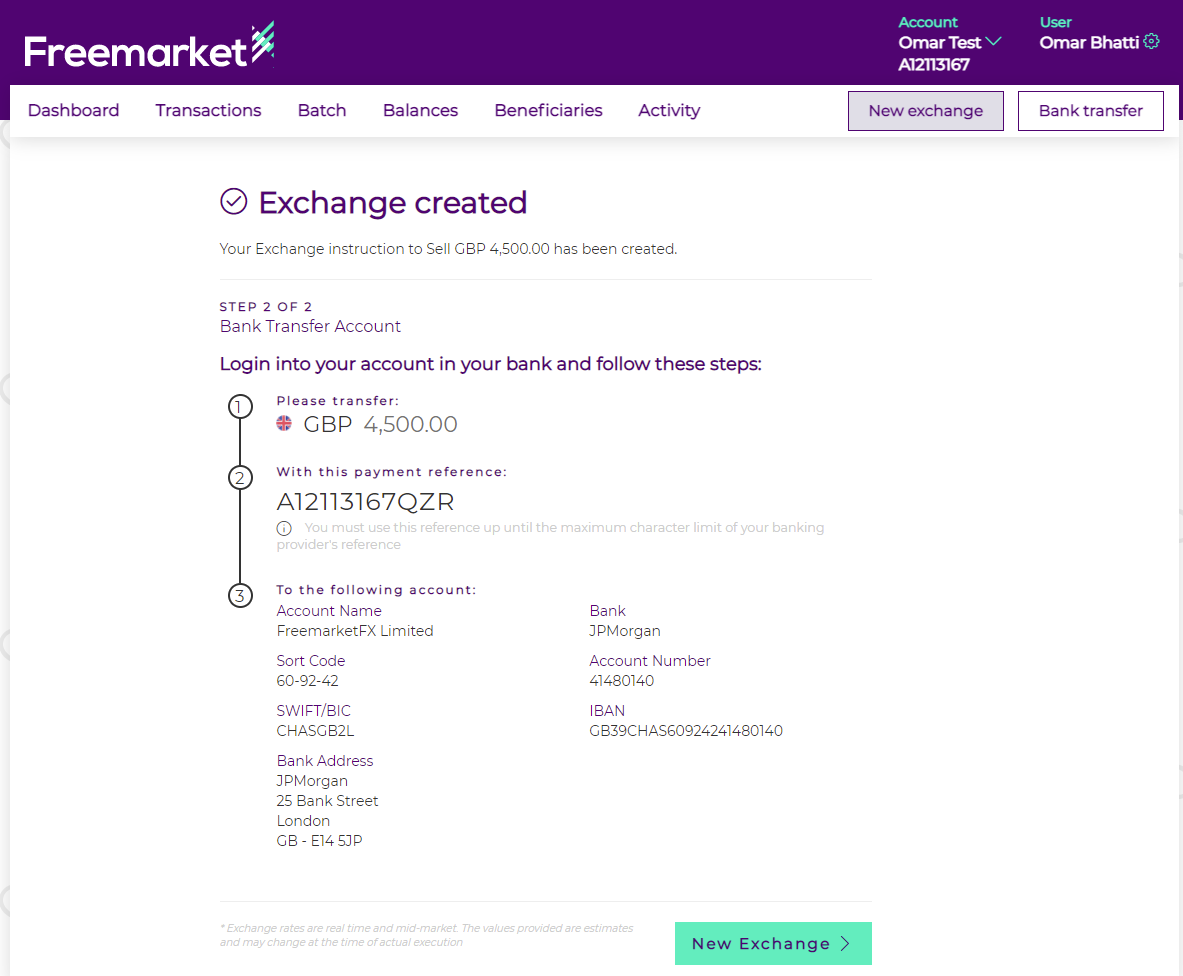 Alternately, if you already have sufficient funds on your account, a transaction confirmation page should appear instead of deposit instructions.

You'll receive a confirmation email once the transaction is complete (usually within one day, depending on the currency and time of transaction), with an exchange summary attachment. The exchange has been completed, and the funds have been allocated and arrived in your beneficiary's account.