So you've decided to register with Freemarket – great news! Now you're only a few minutes away from having your own Freemarket account.
Registering for an account only takes a few minutes, after which we will conduct our mandatory compliance checks to ensure you are who you say you are – we aim to complete this process within a 24 hour period, with most accounts being open much sooner, often in minutes, however, if we have questions or reservations regarding your account this may be longer.
Begin by signing up here. This is the starting point of the registration process and where you'll be asked to provide your basic information.
Step one: Account details
Once you've completed the initial sign up phase, you'll be taken to the 'Create an account' page.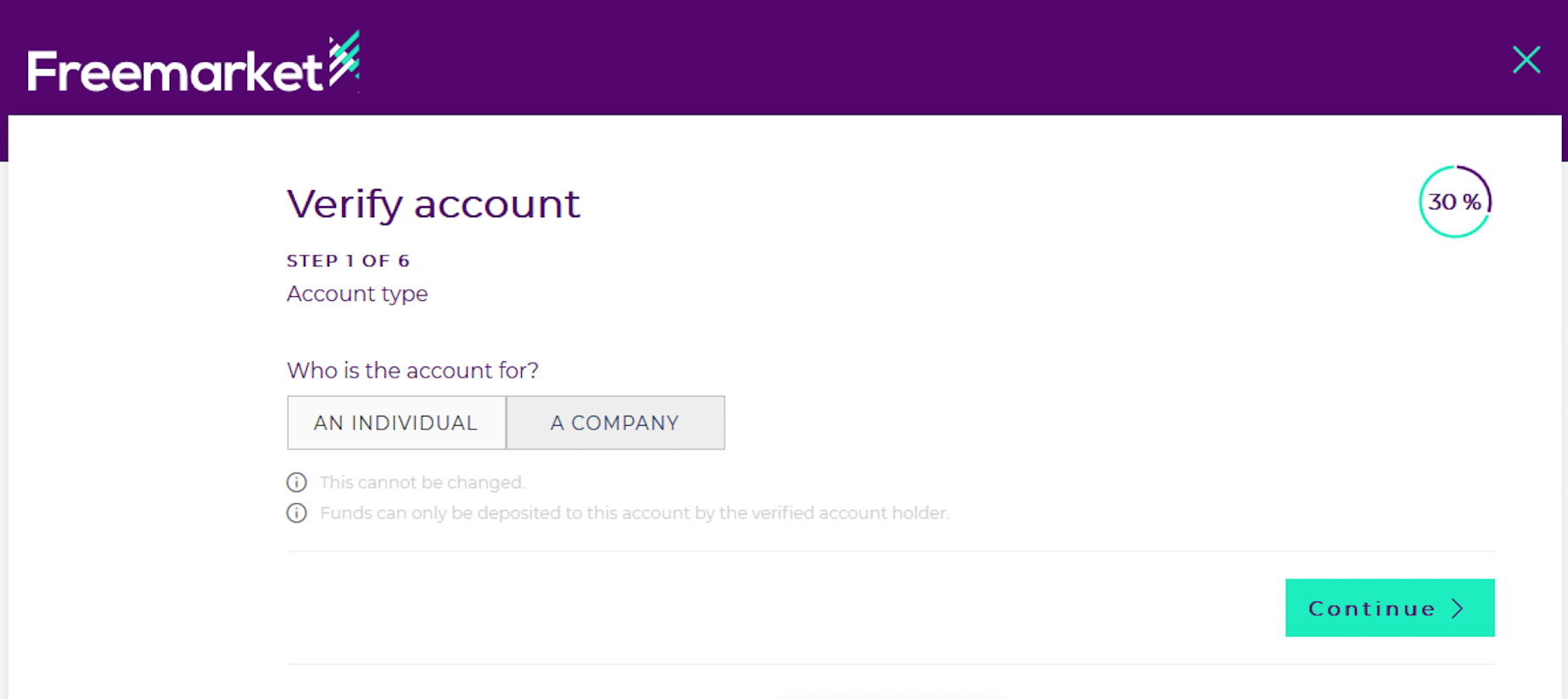 As you wish to open a Business account with us, you'll be asked to provide details of the company. We recommend that you have all the required information in one place before applying for an account, as this will help to complete the application process quickly and easily.
Step two: Company details
To help make the registration quicker, we've given you the availability and option to search for registered companies. Click the dropdown and enter the first two characters for this function to work.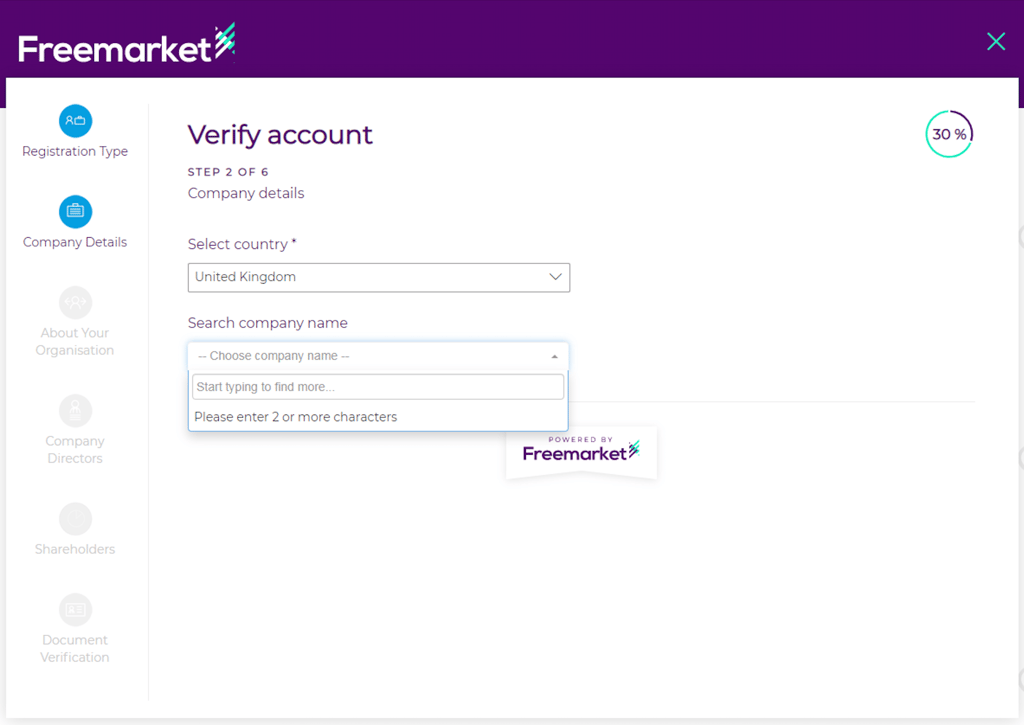 Step two continued:
Here you're required to enter all of your company's legal information, if you're regulated, followed by your personal details, with any supporting documentation so we can cross-reference on our databases.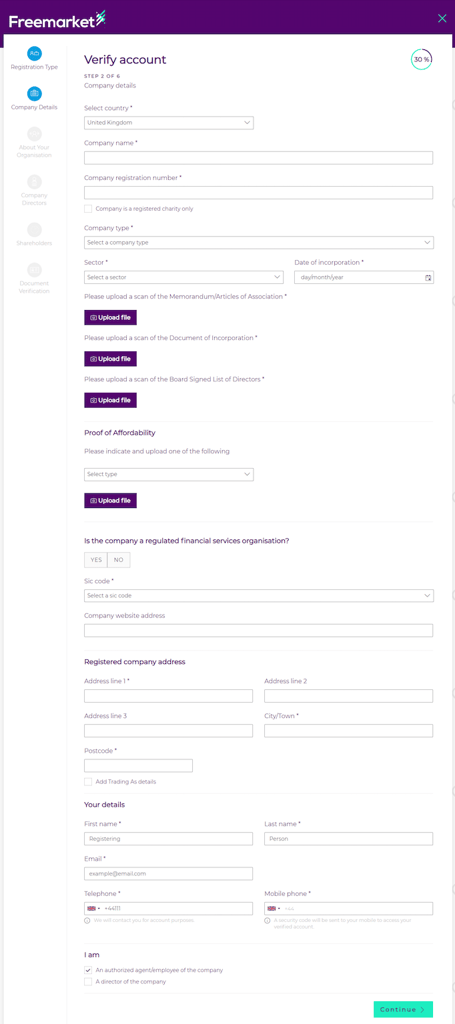 Please note: In this step, it's imperative that you supply and upload supporting documentation regarding your proof of affordability, so our compliance department can process your application.

Step three: Transaction profile
Next, you'll need to complete the 'Transaction profile'. For the purposes of KYC this helps our compliance team to understand the nature and regularity of your business transactions. These insights are also shared with your assigned account manager, helping them to offer you the best possible support.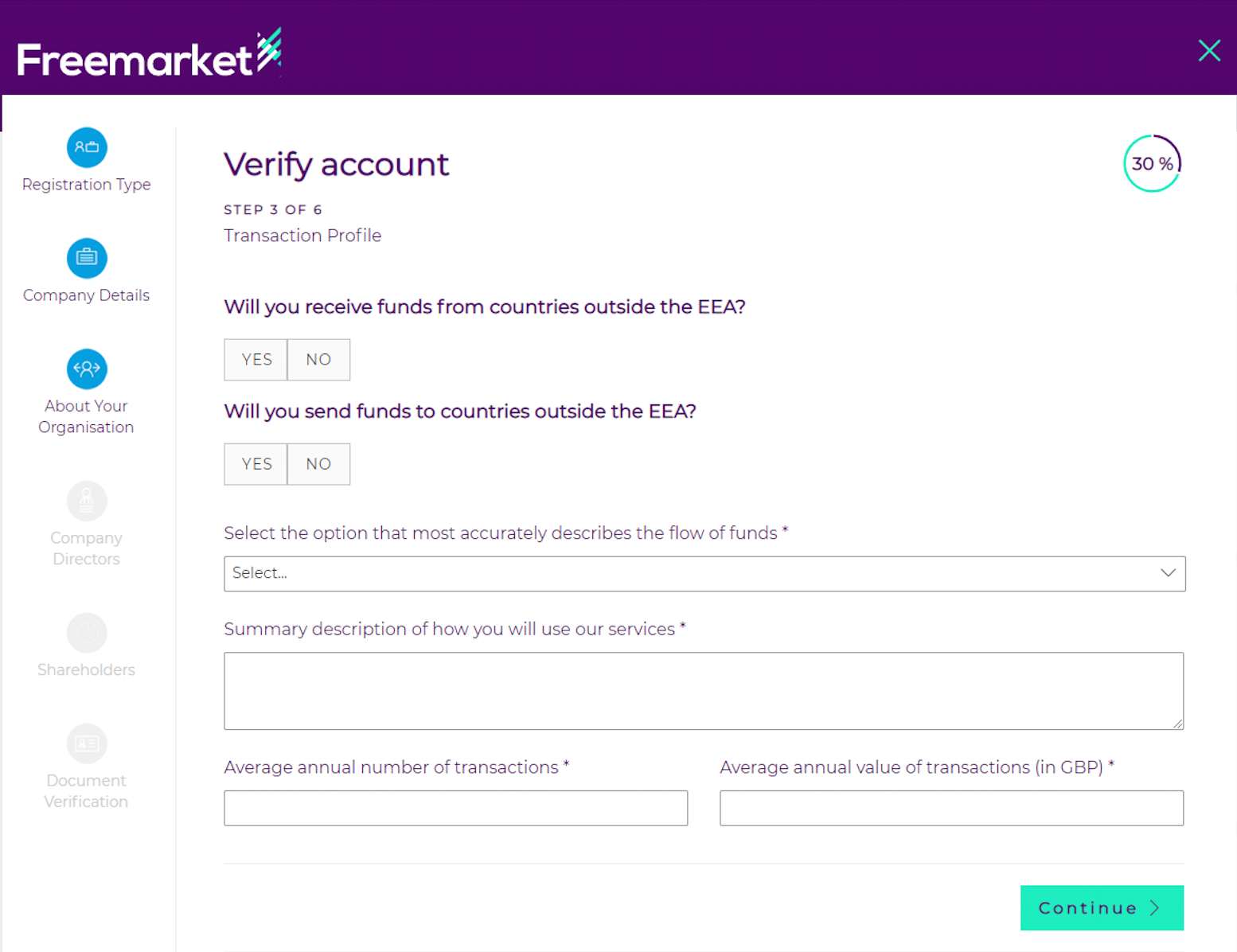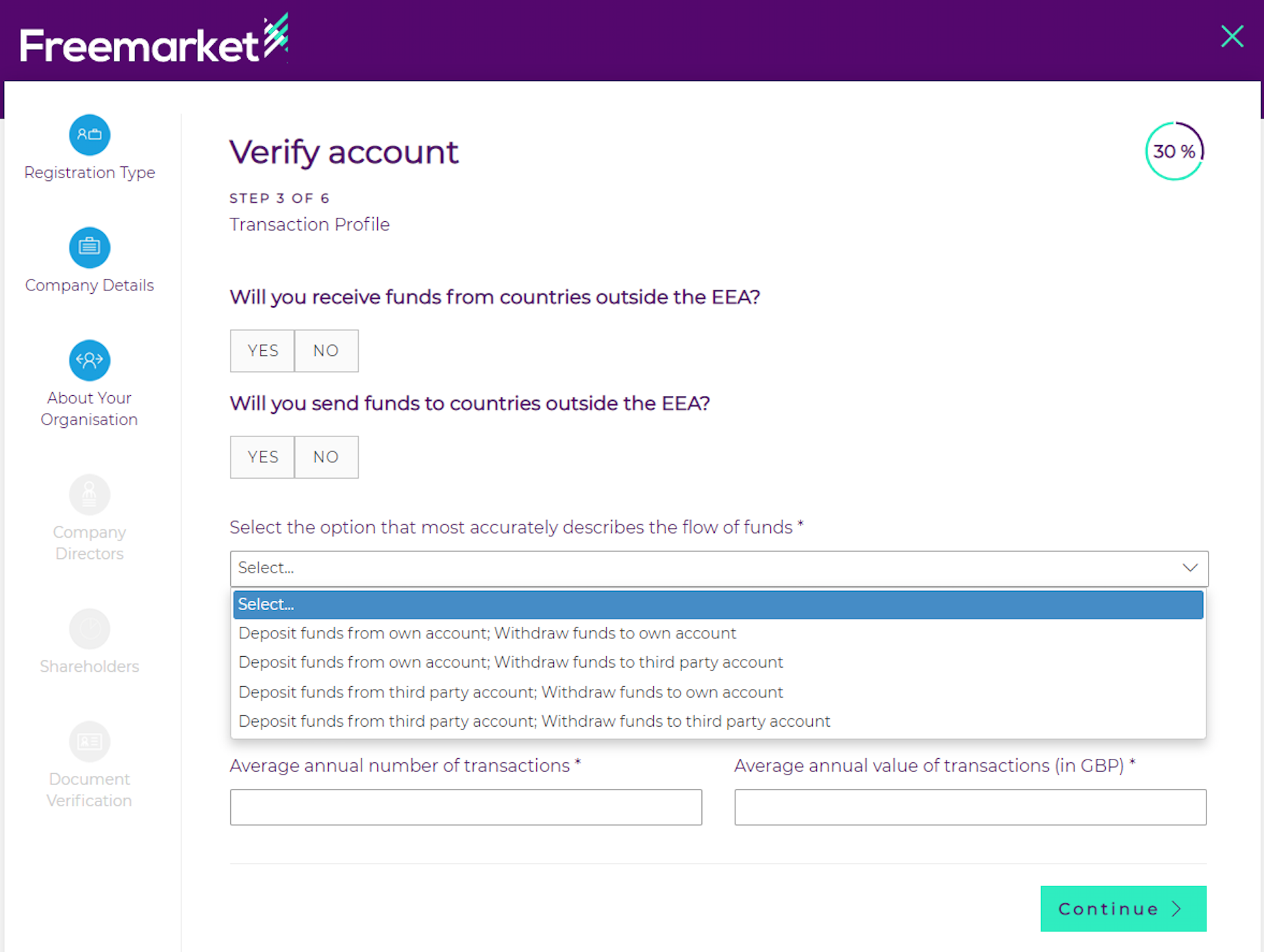 Once you've completed the Transaction profile, you'll be asked to enter the personal details of the primary account user (this could be you or another individual at the company).
Step four: Director details
Next, you'll be asked to confirm whether you are an authorised agent/employee, a company director, or the sole director of the company you're registering on behalf of. Make sure to enter the correct director information that corresponds on the company's legal documentation, otherwise, this could delay the process.
Step five: Company owners or persons with significant control
Here you need to provide all the details regarding company owners or persons with significant control or a controlling stake. You can add multiple owners or persons with control, so please ensure you list the correct information.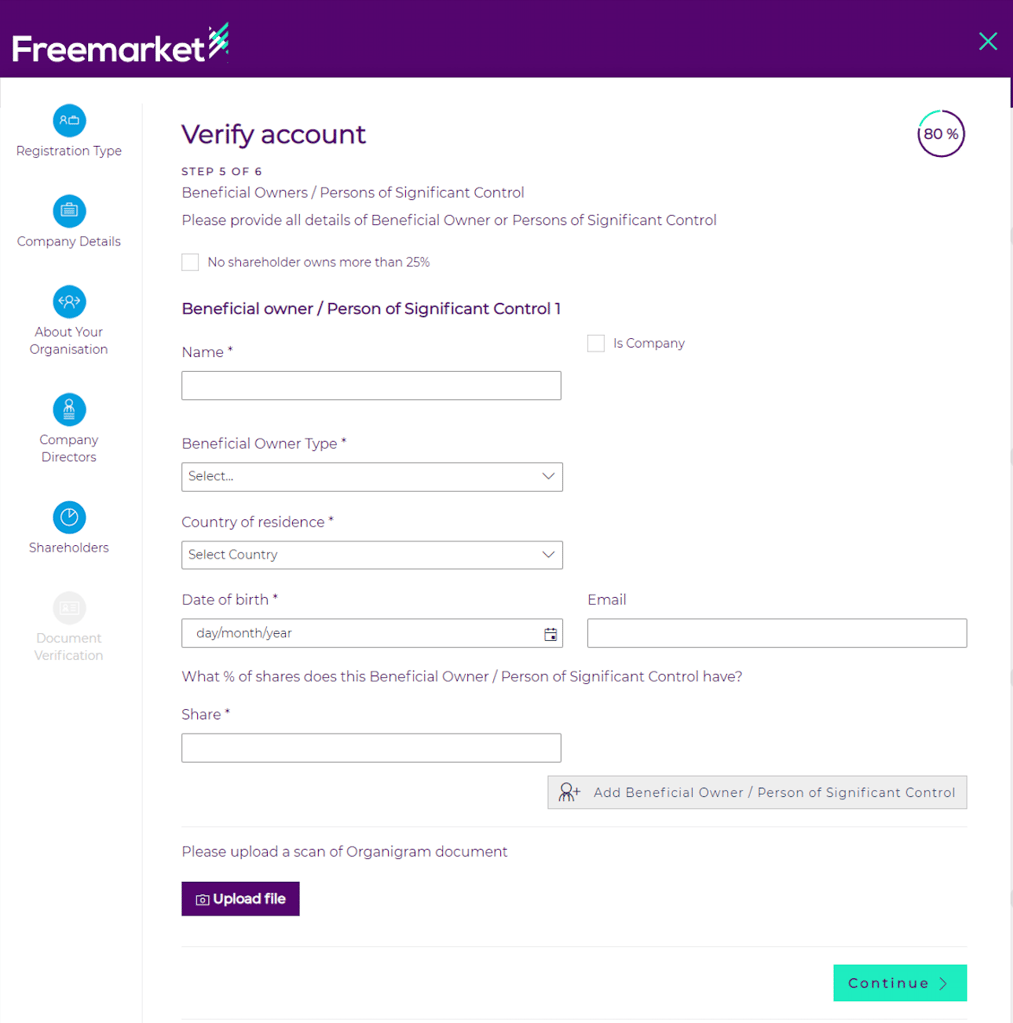 Step six: ID check
Now that you've provided the main details of your account, you will be required to provide supplementary identification so we can verify your identity for AML and KYC purposes. A valid UK driver's license or passport is acceptable. Please be aware that invalid or expired identification documents will not be accepted and your account will not be created until the correct documents have been supplied. Upload an image of your passport or driver's license followed by the long passport number (including the chevrons) or the license ID on the driver's license.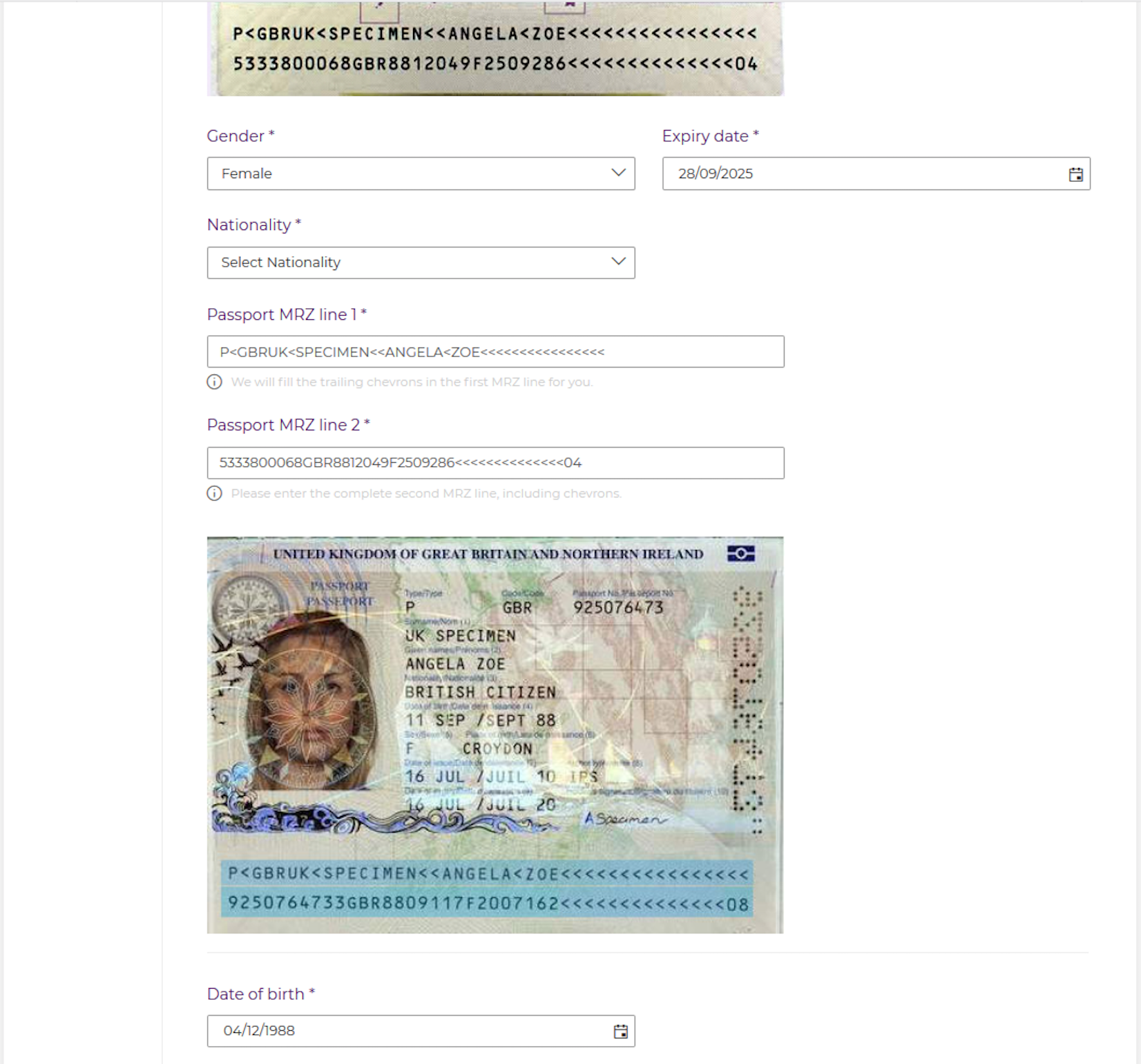 Step seven: Confirmation
Almost there! Now you'll be asked to check and confirm the information you've provided is correct, and accept our Terms and Conditions. Once you've done that, click 'Continue'.
Congratulations!
You've successfully completed registration. You will now be redirected to a confirmation page which will provide details of your assigned account manager. We aim to open all accounts within 24 hours (usually a lot less) of your registration. Should any issues arise or we require any additional documentation or information, your account manager will get in touch with you directly.
Once we're happy and all documentation has been supplied, your account will be created and you will receive a notification via email, after which you can begin transacting straight away.