Freemarket ranked #12 in The Sunday Times 100 2022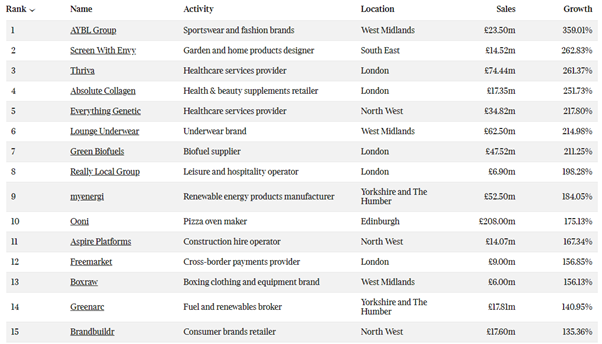 The Sunday Times 100 is a set to be a prestigious annual ranking of Britain's fastest growing private companies. The league table takes on the baton from The Sunday Times Fast Track 100 series, which celebrated the country's leading entrepreneurs for 24 years. The 2022 league table is supported by Barclays Private Bank and DHL Express.
To qualify, businesses needed four years of accounts, with sales growth measured by compound annual growth rate over the last three financial years – full criteria can be found here. The Sunday Times reads: "The companies in this list can rightly see themselves as growth heroes. In total the 100 grew revenues by £3.8 billion."
Freemarket's CEO and Founder, Alex Hunn, said: "We are focused on delivering the best optimised cross-border payments and currency exchange service to our customers. To be recognised in 2022's Sunday Times inaugural 100 rankings for Britain's fastest growing private companies in the payments space is a great achievement and milestone in our journey.".
Founded in 2016, Freemarket has grown to over 50 employees and has achieved a record sales growth of 156.85% over the last three years. The increase in revenue is a real testament to our focus on innovation, strong leadership and listening to our customers and providing them with a best-in-class service for cross-border payments and FX – we believe it's this combination that makes us stand out from the crowd.
We serve businesses globally with our cash management and FX solution. And, are among the first to use matching technology to achieve better rates than offered by the banking sector.
Ultimately, we aggregate Tier 1 banks and local payment rails within a single ecosystem, providing our customers with a single point of access for banking and payment solutions – consolidating costs, increasing productivity, and moving 40+ currencies in over 100+ countries. Our clients can manage global liquidity, consistent FX rates and real-time prices through a single API integration and platform.
A big congratulations to the Freemarket team for all their hard work that contributed to reaching this fantastic milestone and of course thanks to our customers – we're excited to see what the future holds. You can find out more about Freemarket's unique offering by watching our short explainer video.