iFX International Expo
16th – 18th January 2023
Dubai World Trade Centre, Dubai
iFX EXPO is the leading conference connecting top-level executives in online trading, financial services and fintech from around the world. iFX EXPO International is the flagship B2B show trusted by thousands of retail & institutional brokers, technology & liquidity providers, payment service providers, banks, affiliates & IBs, regulators & compliance as well as crypto and blockchain brands.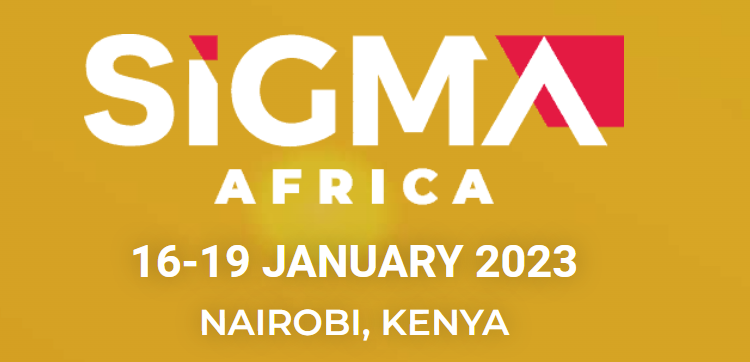 SiGMA Africa
16th – 19th January 2023
Trademark Hotel, Nairobi
With many African countries leading the pack when it comes to mobile gaming, sports betting, the blockchain and other cutting-edge aspects of the Industrial Revolution 4.0, the SiGMA Conference brings together the leading figures in the iGaming world and beyond for 3 days of networking, panels, workshops as well as awards for true pioneers of iGaming in the continent.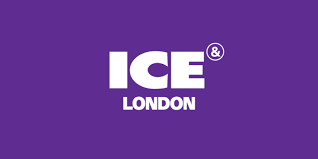 ICE London
7th – 9th February 2023
ExCeL, London
ICE London is an annual B2B conference aimed at the gaming industry and the largest global gathering of gaming operators and solution providers in Europe with over 35,000 attendees – 55% international visitors, 49% new businesses​. Fully immersed in the community ICE have built over the past 20+ years, it's safe to say that the show offers something for everyone involved in gaming.

Payments Summit Europe
24th February 2023
Virtual
In this focused, executive gathering, you will hear from Europe's foremost payments experts on the most innovative payment's solutions and technology, helping to future proof your payments strategy while networking with Payments decision makers of the highest calibre.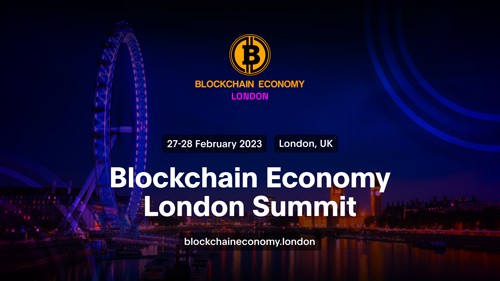 Blockchain Economy Summit
27th – 28th February 2023
Magazine London, London
The 6th edition of the Blockchain Economy Summit will take place during two days on 27-28 February, 2023 with the world's top crypto companies and blockchain entrepreneurs and will be a wide range crypto event in London to explore the potential of web3, NFTs, cryptocurrencies, blockchain and Metaverse.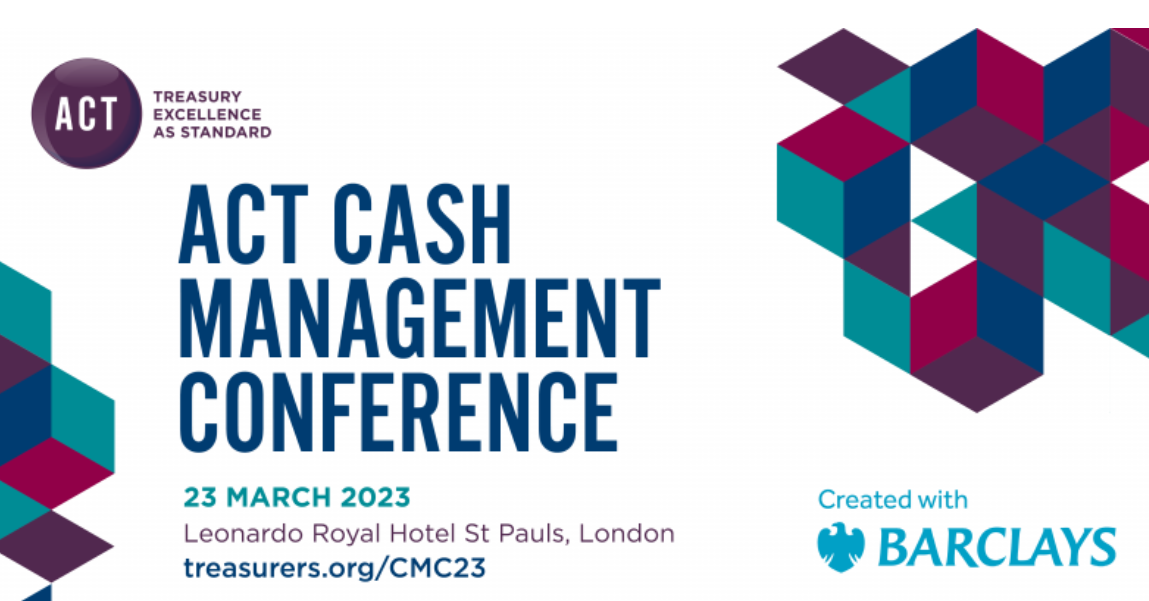 ACT Cash Management Conference
23rd March 2023
Leonardo Royal Hotel, London
The conference brings together a selected group of high-level senior treasurers from global organizations. Learn from your international peers and join the exclusive network. The event ensures you a full day of new knowledge and inspiration made for high-level treasurers. You get in-depth with the latest trends, valuable content from recognized speakers and extensive networking opportunities.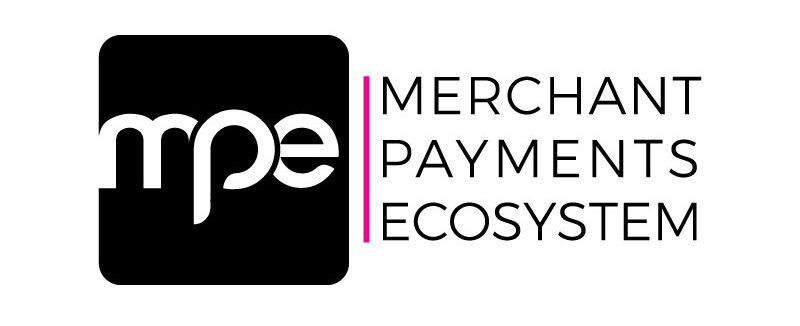 Merchant Payments Ecosystem
28th – 30th March 2023
InterContinental Berlin, Berlin
Participate in high-level networking at MPE 2022. Connect and network with payment professionals from top global merchants. Dedicated program sessions and peer-to-peer discussions. Benchmark and learn from other merchants from various verticals in workshops and topical tables. Get involved in group chats / Q&A sessions with industry experts and get answers to your burning questions.

Smarter Payments Summit
30th March 2023
Hilton Canary Wharf, London
A highly focused event that brings together senior payment transaction professionals and suppliers. the summit consists of one-to-one business meetings, interactive seminars and valuable networking opportunities – all to enable you to create lasting business relationships.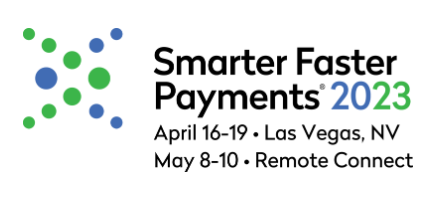 Smarter Faster Payments
16th – 19th April 2023
MGM Grand, Las Vegas, NV
The Payments conference is an annual experience where new and seasoned professionals come to learn and engage in conversations about the latest trends in the industry, and shape the future of the industry.

BAFT Global Payments Conference
30th April – 3rd May 2023
Hyatt Regency, San Francisco, CA
The payments landscape has historically been at the forefront of technological advances in the banking industry. From Central Bank Digital Currencies (CBDCs) and stable coins to real-time faster payments, ISO 20022, and Banking as a Service (BaaS); this year's program will cover the latest in payments both from a cross-border and retail lens.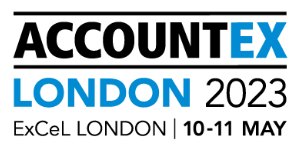 Accountex
10th – 11th May 2023
ExCeL, London
Bringing together 250+ global brands and exciting startups to change the way you work. This event is for UK accounting and finance professionals.

EPAY Europe
16th May 2023
London
Epay Summit Europe 2023 will be a unique forum for collaboration bringing an unparalleled list of payment providers, banking, retail and telecommunications leaders to shape, de-risk and simplify payments moving forward.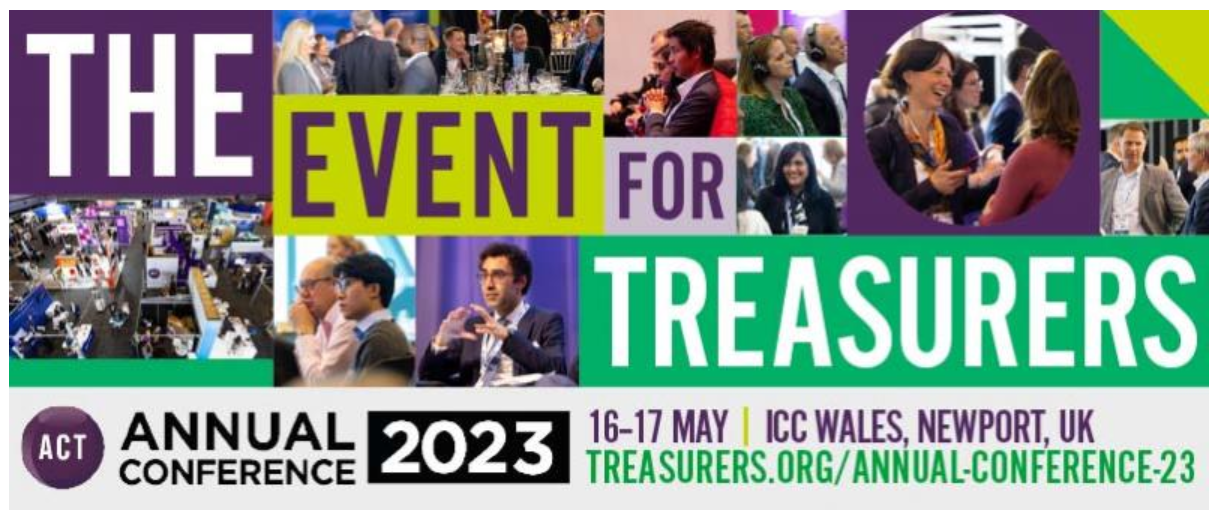 ACT Annual Conference 2023
16th – 17th May 2023
ICC Wales, Newport, UK
2023 marks the event's 20th-anniversary celebrations. Meet hundreds of treasury and financial professionals for two full days of networking and updates on the latest treasury matters and developments. Hear exclusive insights from senior leaders shaping the business landscape.

Money2020
6th – 8th June 2023
Rai Amsterdam, Amsterdam
This is the place where the industry moves forward. "From global leaders to new challengers and from tech giants to scrappy startups, we catalyse change through the collision of people and ideas. We don't just observe and react. We power new strategies and partnerships that transform mindsets. We shape the future."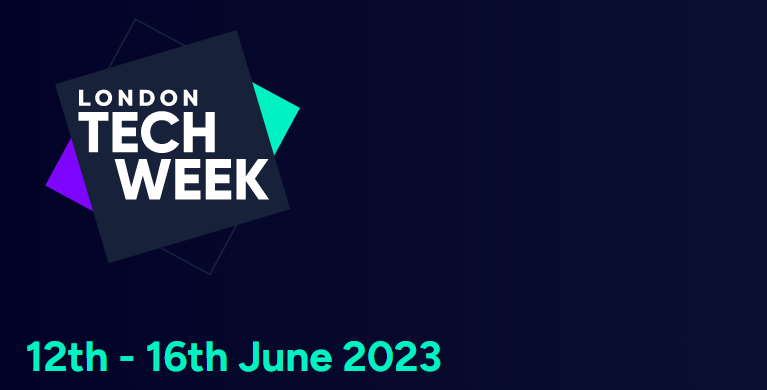 London Tech Week
12th – 16th June 2023
Queen Elizabeth II Centre, London
London Tech Week brings together thousands of tech enthusiasts & showcases tech innovation and success in Europe's leading technology hub, with leaders and enthusiasts sharing expertise and knowledge in hundreds of venues across London.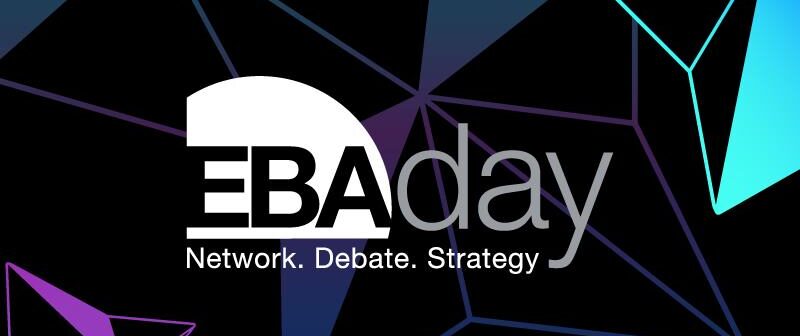 EBAday 2023
20th – 21st June 2023
The IFEMA, Madrid
With a focus on euro payments and transaction banking, EBAday offers a packed seminar programme and a bustling exhibition floor, showcasing the complete spectrum of payment processing services from leading banks, ACHs, technology vendors and consultancies operating in and beyond Europe.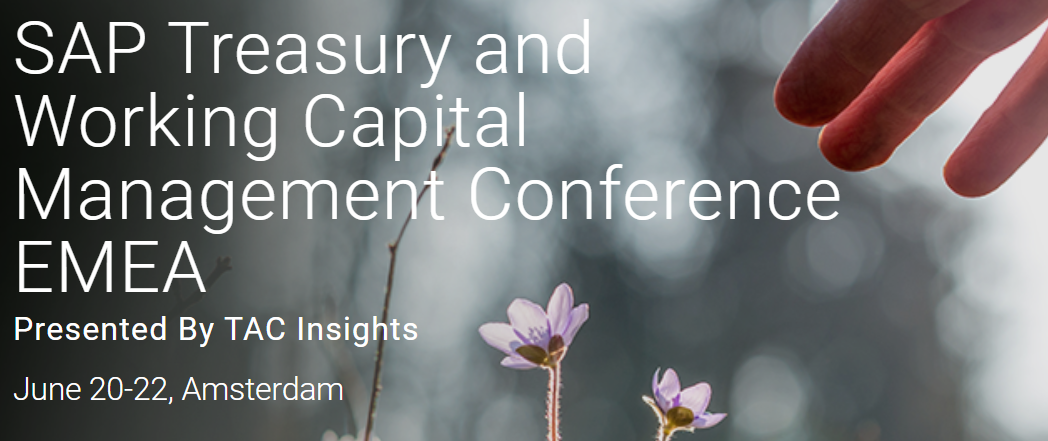 SAP Conference on Treasury and Working Capital Management
20th – 22nd June 2023
Leonardo Royal Hotel, Amsterdam
Treasurers and cash managers need to look beyond pandemic-related challenges to focus on long-term business sustainability and to strengthen their supply chains, using an integrated portfolio of treasury and working capital management solutions.
Attendees will have access to two days of case studies from SAP customers, solution experts and partners, pre-conference workshops, a wide variety of microforums and plenty of opportunities to network.

Hedge Fund European Digital Assets Summit
29th June 2023
Convene Bishopsgate, London
Brought to you by Hedgeweek, the Hedge Fund European Digital Assets Summit is designed for operational and product specialists at European hedge funds to discuss key developments, trends, and issues driving the growth of digital asset strategies and funds.

iGB Live
11th – 14th July 2023
Rai Amsterdam, Amsterdam
Bringing together an audience of pioneers to network, learn and drive industry success, iGB Live! and iGB Affiliate Amsterdam will jointly leverage the strength of iGB and iGB Affiliate's leading content and connections across the iGaming industry for a live show like no other.

Payments Leaders' Summit
12nd – 13rd September 2023
Hilton, Amsterdam
Bringing together payments industry leaders and the most innovative suppliers for a personalised itinerary of one-to-one meetings, networking and interactive discussions and seminars.
This is an unmissable opportunity for leaders that oversee payments and fraud strategy, PSP partnerships, payments schemes and methods, developing payments architecture and infrastructure.

TradeTech FX Europe
12th – 14th September 2023
Palais des Congres, Paris
An opportunity to learn from and network with Europe's leading Buy Side Heads of FX at one time.
As the largest buy side FX conference, learn from, network and collaborate with Europe's leading heads of FX trading and portfolio management as they share practical insights

Amsterdam Fintech Week
12th – 15th September 2023
Amsterdam
Amsterdam Fintech Week (XFW) includes a full week of programming throughout the Dutch Capital of Amsterdam. We gather all relevant players, stakeholders, and companies active in the Fintech scene to bring you the latest knowledge, developments, and insights through a variety of events and opportunities.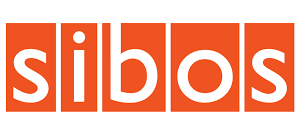 SIBOS
18th – 21th September 2023
Metro Toronto Convention Centre, Toronto
Following on from two successful events, Toronto will once again host Sibos, the world's premier financial services event organised by SWIFT. The annual conference and exhibition connects thousands of executives, decision-makers and thought leaders from across the industry.

SBC Summit Barcelona
19th – 21st September 2023
Fira de Barcelona Montjuic, Barcelona
The SBC Summit Barcelona conference and exhibition is where global leaders in sports betting and iGaming assemble to discuss the future of the industry, exchange knowledge and build powerful connections.
The agenda will cover all the key issues in sports betting, online casino, affiliate marketing, payments & compliance, and safer gambling.

EuroFinance International Treasury Management
27th – 29th September 2023
CCIB, Barcelona
With more than 2000 attendees including 150 world-class speakers the event offers unparalleled networking and insights from the world's most senior treasury professionals. This year's agenda highlights are shifting to a greater focus on driving efficiencies in costs, freeing up cash, optimising working capital, reviewing hedging strategies, and strengthening liquidity buffers as a new economic reality dawns.

AFP 2023
22nd – 25th October 2023
San Diego Convention Center, San Diego, CA
The AFP Annual Conference is for finance or treasury professionals to gain valuable knowledge, connections and inspiration.

IACT Annual Treasury Management Conference
14th – 15th November 2023
Convention Centre Dublin, Dublin
The event offers plenty of networking, content and coverage of the key trends and themes that matter. "We look forward to welcoming all members and the wider Irish and International business and finance community. There are opportunities to engage with Ireland's Treasury community and many international treasury professionals from USA and Europe.
"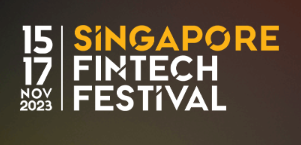 Singapore Fintech Festival
15th – 17th November 2023
Singapore EXPO, Singapore
Singapore Fintech Festival brings together the global Fintech community to engage, connect, and collaborate on issues relating to the development of financial services, public policy, and technology. As the world's largest Fintech festival, last year's edition brought together over 62,000 participants from 115 countries.

Sigma Europe
15th – 17th November 2023
MFCC, Malta
Meet up with top tier industry leaders and forge connections that will last a life time. From relaxed evenings over drinks and intimate sit down dinners to charity treks to extravagant gala evenings, SiGMA offers a plethora of global networking opportunities.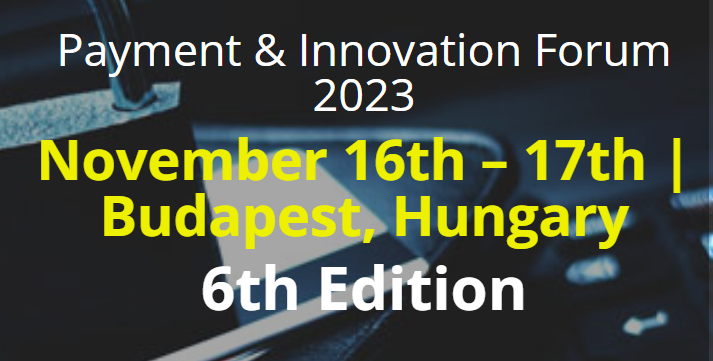 International Payment and Innovation Forum
16th – 17th November 2023
Ensana Thermal Hotel, Budapest
The event will be covering the latest trends, developments, and disrupting technology within the payment industry. Two full days of top-tier speakers, including highly interactive Q&A sessions and open panel discussions in the beautiful capital of Hungary.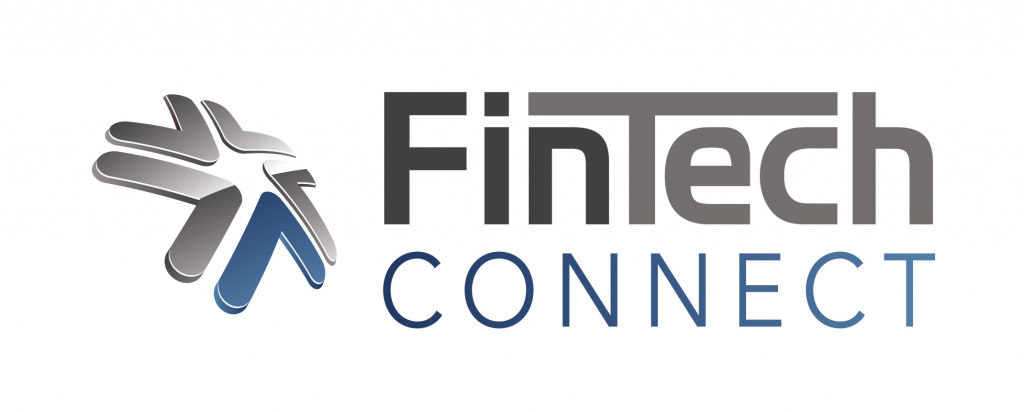 FinTech Connect
6th – 7th December 2023
ExCeL, London
Now in its 10th year, FinTech Connect engages leaders from the FinTech ecosystem for two content packed days where you can hear from and meet global leaders in digital transformation, payments, blockchain and regtech who are driving the global financial technology industry forwards, all under one roof.